To: yahoo group <
saveleytonmarsh@yahoogroups.co.uk
>
Save Lea Marshes is an open group of local people concerned to keep the marshes and green spaces of the Lea Valley open and green for wildlife and local people. For further information go to
www.saveleamarshes.org.uk
SLM Weekly Digest
Keep Our Marshes Open and Green!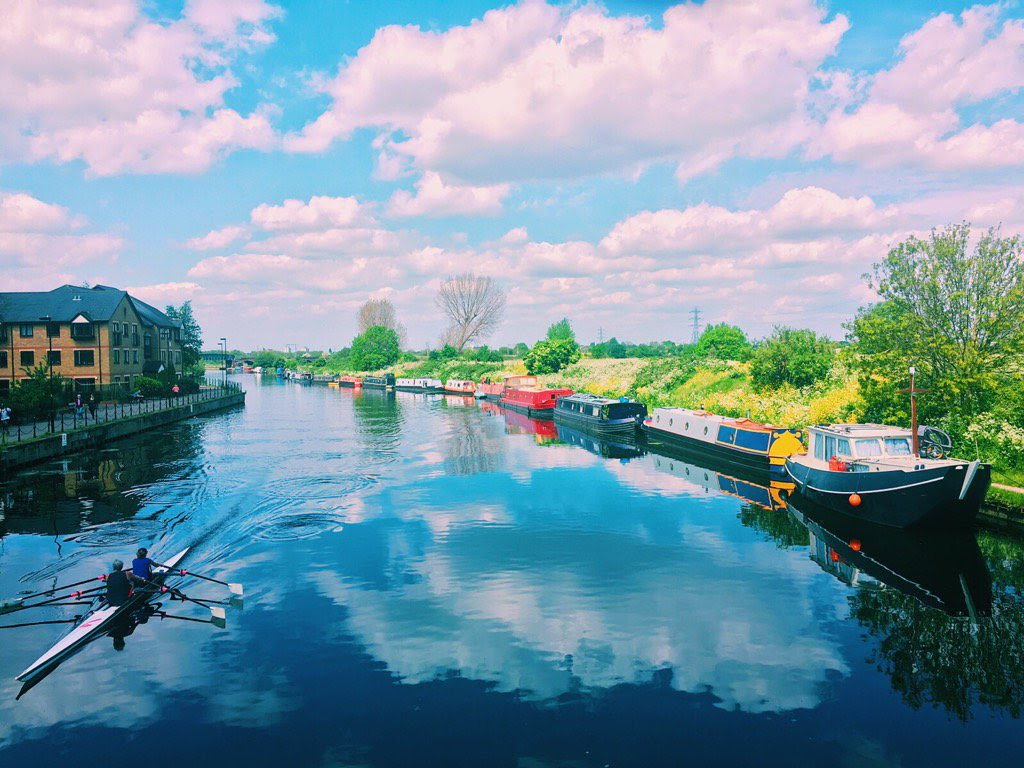 Image of the week: The River Lea in Spring glory shared by
@NicholasNakon
With bird numbers and species declining it is always a welcome sight and sound to realise that the swifts are back in Hackney. I am watching their aerial ballet as I write this week's digest. This week's hot topic continues to be a cold one – the Ice Centre.
RED LINE DISTRICT
- SLM and representatives from local residents met this week to discuss the Lee Valley Regional Park Authority's "Lee Valley Ice Centre Feasibility Exercise Stage 2 Report", prepared for the Ice Centre Users and Local Community Information Sessions April 2016. (If you would like a copy, please request one from the LVRPA from
s.dawson@vibrantpartnerships.co.uk
).
Our discussion centred on the role SLM will play and the different positions that could be taken by others in favouring any of the other three sites proposed if Leyton Marsh is ruled out. SLM's position is that we oppose all building on Metropolitan Open Land and if any such land is taken, then we would want to see another bit of land freed up. We continue to be dismayed by the lack of real consultation and by the quality of the arguments of the report. The statistics pointing to the favoured choice of Leyton Marsh are not convincing economically, in terms of strategic transport accessibility or parking provision. Furthermore, there are strong reasons not to put a larger Ice Centre on the marsh, which include ground pollution, noise pollution; loss of view and amenity to the open space and creating even more traffic clogging on Hackney's borders. The "red lines" around the map diagrams of the report appear to suggest the Leyton Marsh site could be expanded across most of the marsh, only the SINC by the river constituting a 'red line' for development. Our red line is somewhat different!
SLM and other local residents will be attending the LVRPA's meeting on 16 June, to bring these points to the attention of the committee when the report is presented. The meeting is open to the public.
CANAL TWEETS
– we know that a number of our readers our housed on boats through choice or economic necessity and we know it is getting increasingly harder to find a stretch of the river to call home – so having been sent some tweets about organisations that can help, we thought we would pass them on:
@NbtaLondon
(National Barge Travellers Association)
@Canal&RiverMisTrust
and of course the Canal and River Trust's own account
@CRTContactUs
.
LEA BRIDGE STATION RE-OPENING
– it has finally happened. The station closed in 1985 due to low passenger numbers is now running every 30 minutes between Stratford and Tottenham Hale – two key transport hubs. There was an official launch on Monday and there will also be an ongoing art project in the summer to mark the occasion. The good news is that this will help local people get about but perhaps the downside is that it will open up more Klondyke style development bids..
IN THE PRESS
- The
Hackney Gazette
has a story on p. 3 on "A knitting tribute to fabric of Stokey" – a fully knitted replica of Stokey Common by a local group called Common Thread, which will be on show in Stoke Newington Library and at the Chelsea Fringe Festival; on p.9 "Fly-posters told to leaf it out", pinning posters on trees in London Field Trees (this is also happening in Millfields Park – don't do it, it damages the trees!) and Letter of the Week on p.8 "London Fields mess cause for concern" based on the story from last week on misuse and refuse issues.
www.hackneygazette.co.uk
Over in Waltham Forest,
The Waltham Forest Guardian
has 'Waltham Forest's Deputy Leader has called for an inquiry to reject Compulsory Purchase Orders' (CPOS), that would pave the way for the City Airport to acquire 12k kilometres of land for airport expansion. "The borough is the third most overflown in London after Hounslow and Richmond", he said. Meanwhile, 500 Supporters of "Mini Holland", met last Sunday after forming a Facebook group to back the project
www.guardian-series.co.uk/news
In their latest mailing Waltham Forest Friends of the Earth, also back the scheme and ask people to show their support (I'm sure most of us would support the increased cycling/pedestrianisation versus more car pollution but the Lea Bridge Road is now a sad testament to a big cull of wild space which somewhat defeats the object!).
National Stories
– a feature by Stephen Moss in last Sunday's
Observer
"The messy limbo that is neither town nor country", pp.10-11, on a new book about the brownfield in-between spaces which often have a richer range of wildlife, part of a new book by Stephen Moss 'Wild Kingdom:Bring Back Britain's Wildlife'
www.observer.co.uk/nature
and on p.12 News section "Fresh Doubts over Thames Garden bridge as Sadiq Khan probes into £175m project" (since then it looks like the current administration want to go ahead with less public money and more public use).
The Sunday Times
, p.7 had a story on the plight of the beached Whales "Toxins in sea linked to the stranding of Whales" – it is the fault of pollutants an PCBs from such things as electric equipment.
A letter concerning the amount of pollution that faces local Hackney (and other borough schools) and the fact that a road bridge by Eton School was closed years ago for pollution reasons featured in the press this week.
My favourite wildlife story of the week has to be
The Evening Standard,
Monday 16 May, p.23 "Fantastic Mr Fox is a London Commuter". Following the epic climb of a fox up the Shard a few years ago, our resourceful foxes are now riding escalators and catching tube trains...
EVENTS
At
Dalston Curve Garden
this weekend - Floriography: The Bureau of the Unsaid, Saturday 21 & Sunday 22 May 2016, 1 - 5pm. The Garden will be visited by 'Floriography: The Bureau of the Unsaid', with artist Emily Tracy this weekend, to launch four weeks of 'Dalston Flower Show' events and activities at the Garden for
Chelsea Fringe 2016
.
And it's a way ahead but you can book your place on a
Free Bee Talk with Russell Miller - Thursday 16th June at 6pm
at The House, Clissold Park
.
Register
here
Next
SLM meeting
– we're ignoring the fact that it is another Bank Holiday and having a meeting at
7.30 p.m. in the Princess of Wales pub, Lea Bridge Road on Monday 30 May
. Newcomers welcome.
Copyright © 2016 Save Lea Marshes, All rights reserved.
You signed up for this email by contacting us directly or ticking a sign up sheet on a petition.

Our mailing address is:


Save Lea Marshes

c/o The Hornbeam Centre

458 Hoe St

Walthamstow, London E17 9AH

United Kingdom